Today, Im linking up with Jenn for What I ate Wednesday!! WHOOP WHOOP!!!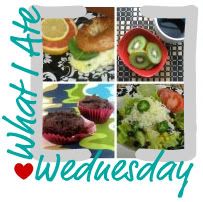 So, here is what I ate:
Red Velvet Pancakes with White Chocolate chips.
yes, I LOVE to put the little chips in every pancake I make!
Tonight, I am attempting to make Coffee Pancakes with.. yeah you guessed it, white chocolate chips!
(dont judge 'til you try it)
Lunch is always a blur because I eat the same thing, some type of sandwhich. This week, it's been Nutella.
Jon Jon and I made some legit breaded chicken strips and vegetables for supper. Honey mustard for dip.
Confession: I always think food pictures look cooler when instagramd, so I got Jon Jon to do it because im not cool enough for a phone that has the ability too! Im really just obsessed with instagram!